Judy Henninger

Phone: (971) 226-0613

Portland, Oregon

CCB# 196557

judy@paintrlady.com






Welcome to

Old House Painting  & Restoration

How It All Started


My interest in older homes began in 1994 while doing repairs on our family home in Mountain View, California.  Built in 1948 just after the war, the walls, floors, windows and trim showed a lot of abuse from my sisters and me, and all of the pets we'd had over the years.  As I began stripping the wood, I realized that these old houses had good bones underneath the old paint!


The word got out, and soon I was working on other post-war homes in the neighborhood.  It wasn't until I was fortunate enough to work on a tiny 1920's Bungalow that I became hooked!  Originally priced as a "tear down," the couple decided it would be the perfect home for them and their two young boys, if only it could be restored.


I worked side by side with the family, learning new skills along the way.  Soon, I was stripping paint and rehanging all the double-hung windows in the house.  This eventually led to stripping all the exterior siding and trim, and making necessary repairs, saving as much of the original house as possible.  Most of what I know about the restoration business I learned on that little Bungalow.


To say I'm passionate about the business is an understatement.  After more than 15 years of scraping paint and returning old homes to their original charm, I can't imagine doing anything else!  Hopefully I can share this passion with you as well during your home restoration!

Thanks for visiting!  If you have any questions please feel free to contact me through e-mail or phone.

                                        Sincerely,
                                         Judy Henninger

                                                Owner

            Now restoring homes in the Portland, Oregon area!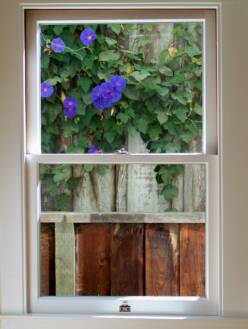 We are a full-service painting and restoration company specializing in homes built prior to 1950, with a particular fondness for Bungalows built in the 1920's.  Our goal is to work with as much of the existing house as possible, returning any home to it's original beauty and charm!

Complete repair of double-hung wood windows, including paint removal and replacing broken glass and ropes.

Restoration of exterior siding and trim, including stripping paint and epoxy repair of damaged wood.

Determine the cause of peeling paint, loose caulking and dry rot.

Interior painting, including plaster repair, doors and woodwork.

Extensive preparation to assure a long-lasting finish.

Working with the owners and educating them on the special care their house deserves!